Something Gareth and I have been meaning to do for ages is visit
Heidi Museum of Modern Art
in Bulleen. We started stocking the gift shop with our cards, so whenever we had an order to send I would suggest driving out there. We even made the mistake of going on a Monday when they were closed. Silly me!
So I made it official by putting it in the googie calendar and every time the day came around something else came up. I think it got bumped about three times! Well today it finally happened, we had an order to drop off (they have Kitty and Melbourne calendars that we have not even put online or blogged about yet!) so we got in the car and 15 minutes later we were in Bulleen. It is a fast drive from Brunswick, once you're on the Eastern Freeway you fly along very fast.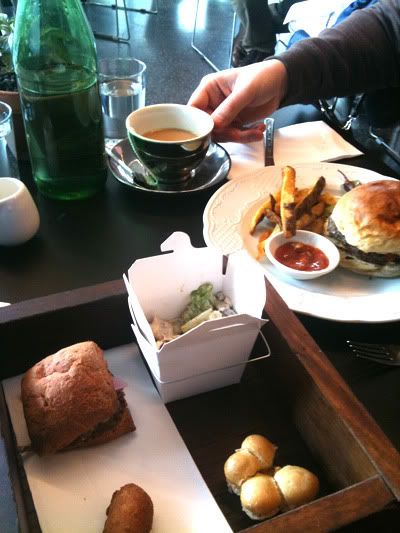 We were excited to try the
Cafe Vue
for lunch and after sitting down we realised we had not been out for food in a while (pub food doesn't count). I had the lunchbox and Gareth had the burger and the waiter KNEW that was what Gareth would order. He was a smart guy. The tea was fancy pants Simon Johnson and I thought it wouldn't be as good as my favourite Dilmar, but it might have been better, big call!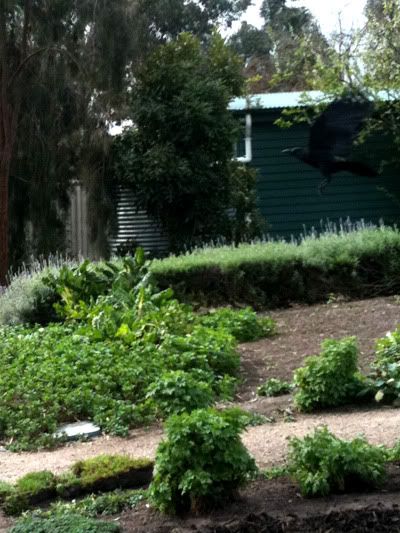 We spotted this guy in the vegetable garden (he is hard to spot in the photo, look to the top right). I was keen as a mustard plant to have a look at how the vegies looked. They had lots of herbies which are my favourite. Gareth pointed at the curly parsley and said "see that is what real parsley is". No winning him over with the gourmet flat leaf!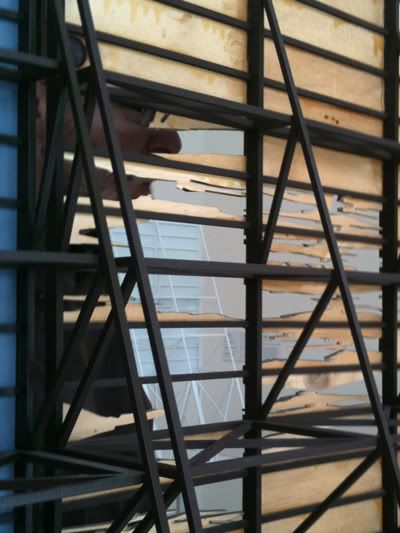 I guess we better talk about the art (it isn't all food, gift shops and vegie gardens you know!), we went to
Callum Morton
(which runs till October 16) and I think the Le Pine Funerals sign out the front was a highlight as we both had a BIG confusion when we came in as to why it was there. Although I think my favourite was the old Gas and Fuel Corporation building with 'help me' from The Fly playing over and over. I had been thinking about Fed Square and what used to be there because it feels like it has always been there. I only shifted in Melbourne in 2002, but I used to row as a teenager so it isn't like I wasn't ever in the city. Even seeing the replica confused me as it just gone from my memory.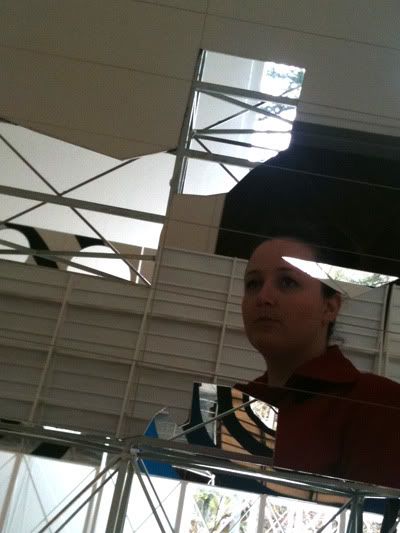 If you're planning a lovely date day then I think Heidi is a good idea. It is quick drive, they have fancy food and art + pretty gardens is good for the soul.